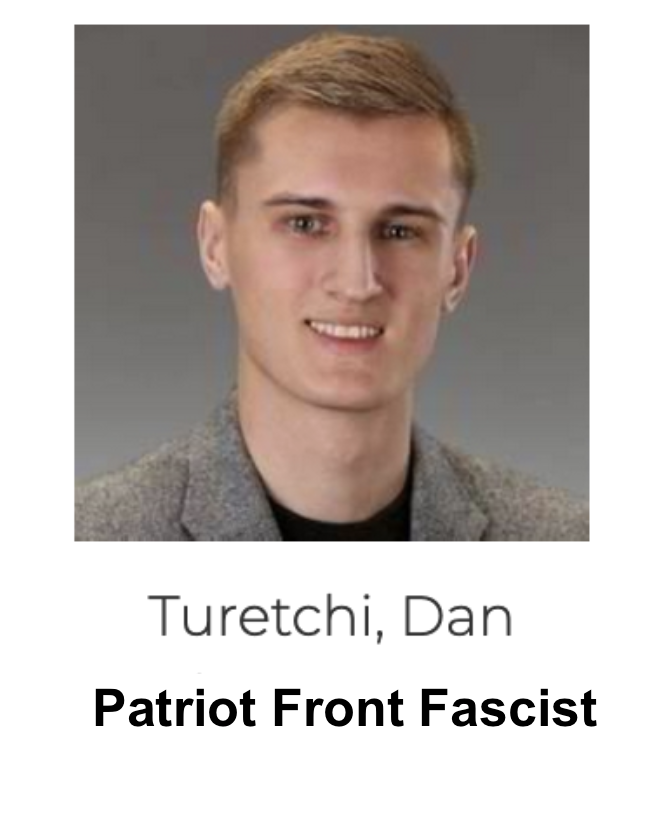 4500 Chaucer Way, #106, Owings Mills, MD 21117
Telephone: 347-782-4785
Telegram: @danimal88
Real Estate Agent *no broker affiliation as of 1/25/22*
Thanks to the latest release of Patriot Front Chat logs by Unicorn Riot, we can identify Daniel Turetchi of Owings Mills, Maryland as "Grant-MD". Turetchi was employed as a Real Estate Agent in Parkville, MD and an active member and Network Scribe of Patriot Front's Network 9 (NW9), encompassing the Delaware, Maryland, Washington D.C., and Virginia areas. He resides at Beckett Green Condominiums in Owings Mills, Maryland, a Baltimore suburb, since purchasing a unit in 2018.
*UPDATE* As of January 25th, 2022, Tuertchi's former brokerage confirmed that his employment has been terminated. This article has been updated to reflect that.

The chat logs published by Unicorn Riot show that Turetchi leveraged his position as a real estate agent to secure a campground in Unionville, VA under false pretenses for his fascist cohort to stay for their December 2021 march in Washington D.C. In addition to interfacing with the lessors, chat logs show Turetchi also was in charge of camp security checkpoints, meeting members at an initial checkpoint before escorting them to the campground. Intelligence garnered from the weekend indicated that local sheriff's deputies were alerted to the suspicious presence of vehicles idling and massing at seemingly odd locations, forcing arrivals to reconfigure their meet points several times. Antifa Seven Hills was able to contact the lessors, who were appalled to learn they were taken advantage of and lied to.
Dan was caught candidly at a recent National Justice Party assembly outside of Pittsburgh, PA. The NJP was established in late 2020 by prominent white supremacists and anti-semites Mike Peinovich and Joseph Jordan, also known as "Mike Enoch" and "Erik Stryker", and seems to be another attempt by members of the alt-right to enter into more mainstream political systems. Its events and organizers have attracted members of other neo-fascists groups, such as Daily Stormer, Identity Evropa (rebranded as American Identity Movement) and Patriot Front.
Turetchi can be seen in several training videos from November 2021, in which Paul Gancarz, aka "Network Director Samuel VA", attempts to teach NW9 members how to march in formation and utilize shields to deflect imaginary counter-protestors. Thankfully, attendance notes were shared within the internal RocketChat, so in addition to their faces, we also have their organizational pseudonyms!
Thanks for the notes Dan!
Turetchi also shared several logos and building plans with Patriot Front's petulant leader Thomas Rousseau, showing a house in Laytonsville, Maryland, a suburb of Washington D.C. in Montgomery County. While the property, 21720 Rolling Ridge Lane, is owned by Turetchi's father Petru, the plans show a 6,000 square foot private residence for Turetchi Developments, an LLC that lists Dan as the Agent. Interestingly, the LLC was originally formed as "Turetchi Construction" in 2018, changed to "Dacia Express" in 2019, and finally back to "Turetchi Development" in 2021. Third party websites list "Dacia Express LLC" as an inactive freight trucking company operating under USDOT Number 3236578 and MC Number 1015777 with three approved drivers.
Dacia Express LLC listed on US DOT website
While we can not definitely say at this time, it appears that this new construction home is possibly being developed for Rousseau and Patriot Front members as a base for the East Coast, especially considering Rousseau's Texas residences are continually publicized. Why would a young real estate agent have the need to register a trucking company? Perhaps if the fascist organization they belonged to needed cover to rent multiple trucks several times a year, a trucking company could be a convenient excuse and ostensible layer of obfuscation for antifascists or law enforcement. Note that "Dacia" is the Greco-Roman designation of the geographical area corresponding to modern day Romania and Moldova, which of course links to the Turetchi family's ethno-cultural heritage; Turetchi's father Petru may be a first-generation immigrant, while Daniel attempts to subsume his European heritage within the hegemonic Whiteness of the United States, and the nativist attitude of Patriot Front.