Early in the morning of Monday, May 14, anti-racists placed posters in Lawrenceville, Georgia, warning residents about Aaron Christopher Krueger, a member of the Patriot Front white power organization.
Over the last half year, Krueger and a small number of associates have spread thousands of pieces of Patriot Front propaganda throughout Metro Atlanta. Frequently, Patriot Front materials were circulated with a method also used by the Klan: throwing out plastic bags with flyers and stones for weight onto lawns, porches and driveways late at night.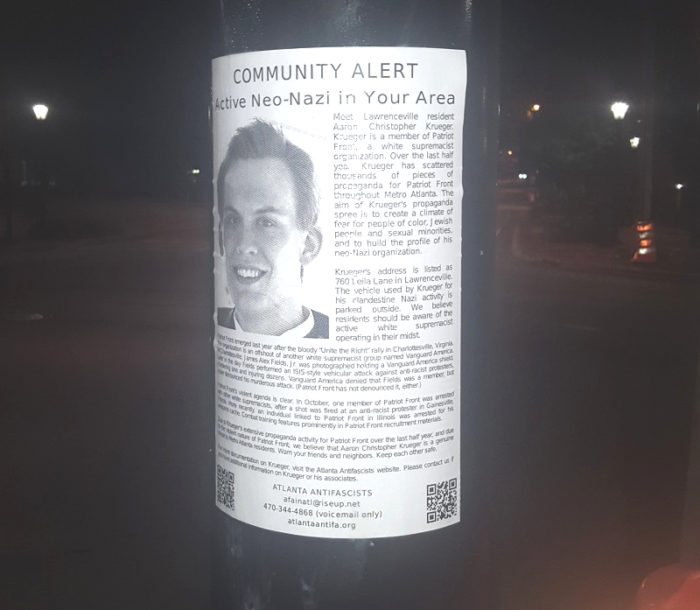 In addition to the anti-racist posters placed Monday morning in Lawrenceville, over 250 flyers about Krueger were mailed to neighbors around 760 Leila Lane in Lawrenceville over the weekend. These flyers warned residents about the neo-Nazi organizer in their midst. According to an exposé of Aaron Krueger just published on the Atlanta Antifascists website, the 760 Leila Lane address in Lawrenceville has been conclusively linked to Krueger and the Patriot Front. Dozens of places of worship in the area were also sent the anti-racist flyer about Krueger, since Patriot Front propaganda often denounces Jews and Muslims, and because Christian churches in Gwinnett County have been targeted with Patriot Front recruitment materials (typically flyers left on windshields while church is in service).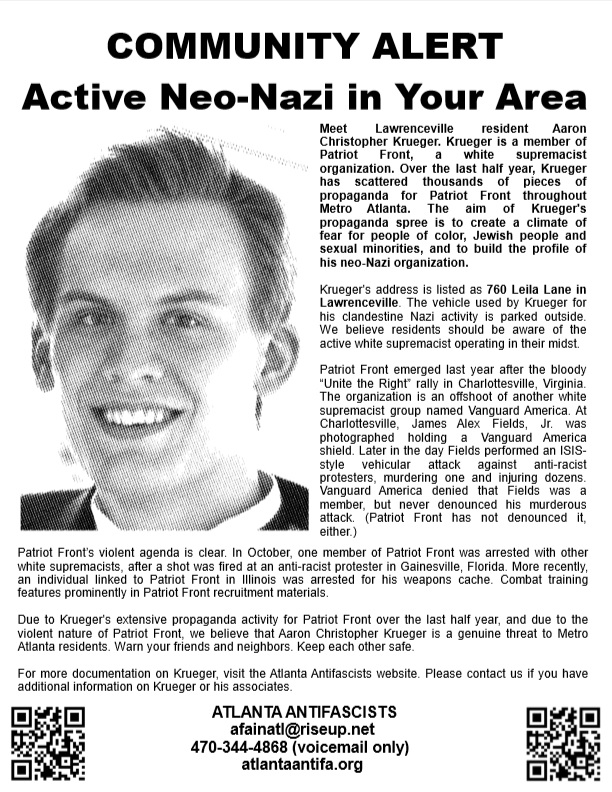 We responded to Patriot Front and Krueger not merely because that organization's materials distributed around Metro Atlanta try to create an atmosphere of intimidation for immigrants and people of color, but also because of the violent nature of Patriot Front. While the Georgia group has so far focused on propaganda distribution, fight training features prominently on social media for Patriot Front nationally. Patriot Front was formed as an offshoot of Vanguard America in the wake of "Unite the Right" in Charlottesville, Virginia last year — at Charlottesville, a white supremacist who stood with Vanguard America earlier in the day, went on to murder one person and injure dozens in a vehicular attack against anti-racists. In Gainesville, Florida in October, a Patriot Front participant was arrested along with two others after a shot was fired at an anti-racist protester. More recently, a Patriot Front supporter was arrested in Illinois over his weapons cache. The idea of purifying the nation through violence is central to Patriot Front as an organization — but it is more difficult for Patriot Front to organize for race war when its members are forced from the shadows.
Read the complete exposé of Aaron Christopher Krueger — including a chronology of Patriot Front activity in our state – here.