On August 22, a group of far-right agitators held a "No To Marxism In America" rally in downtown PDX (coordinated with two other somewhat-more-innocuously-titled "Mother of All Back The Blue Rallies" intended to disguise the actual reactionary, and fascist rhetoric behind the events). This particular group of organizers is mostly a pathetic collection of rejects and cast-offs from various local far-right groups that have been staging violent incursions into Portland for years. Despite their overall lack of right-wing social capital, at last weekend's downtown, this group proved themselves capable of often unprovoked, disproportionate, and potentially deadly violence, and they continue to pose a real threat to our community.
Whether it's folks who learned about this event ahead of time and are already familiar with the assortment scumbags in attendance, or just passers-by who happen upon the rally and are disgusted by the racist and overtly reactionary rhetoric on display, people in Portland don't let fascist organizing happen unchallenged and uncritiqued. By belief and by action, those attending this rally have chosen to position themselves in racist opposition to the movement for Black lives, and for that they should feel unwelcome wherever they are. They have also proven their enthusiasm to engage in reckless violence. But there is safety in numbers, so watch out and take care of those around you. Get together with friends and pack snacks, make signs, get familiar with who these people are. And don't forget your mask!
Despite the fact that these organizers are largely ridiculed and despised even within their own movement, recent events have shown that they are hungry for violence and plan to take full advantage of the ongoing legacy of impunity offered by the state to far-right, fascist, and neo-Nazi agitators who have spent the past three years invading Portland intent on harassing and assaulting people.

Amber Cummings (right) rallies with neo-Nazi Identity Europa founder Nathan Damigo. – Photo from NoCARA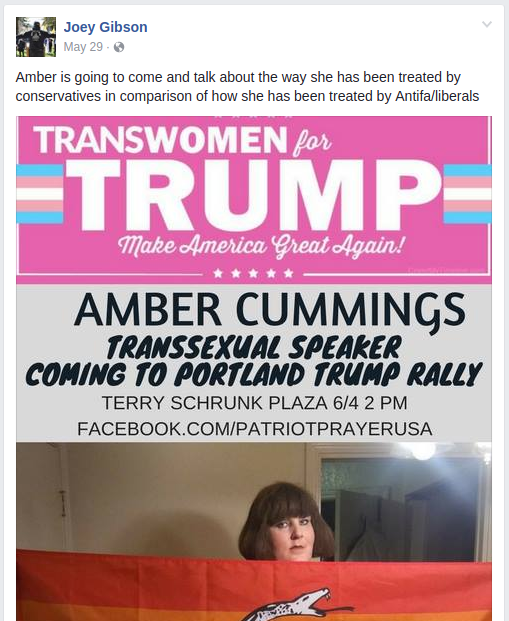 Joey Gibson promoting Amber Cummings in 2017.
The main organizer of the rally is Bay Area alt-right activist Amber Gwen Cummings, who has participated in multiple violent Patriot Prayer events as well as having repeatedly rallied with open fascists such as Identity Europa–now the American Identity Movement–founder Nathan Damigo, and members of the violent neo-Nazi Rise Above Movement organization. Cummings appears to have gotten in contact with local far-right agitator Sorbeah Amr Almosa (aka Ara Almosa, Ara Moses, Ara America; formerly known as Shawna Marie Lydecker) and convinced her to assist with the event.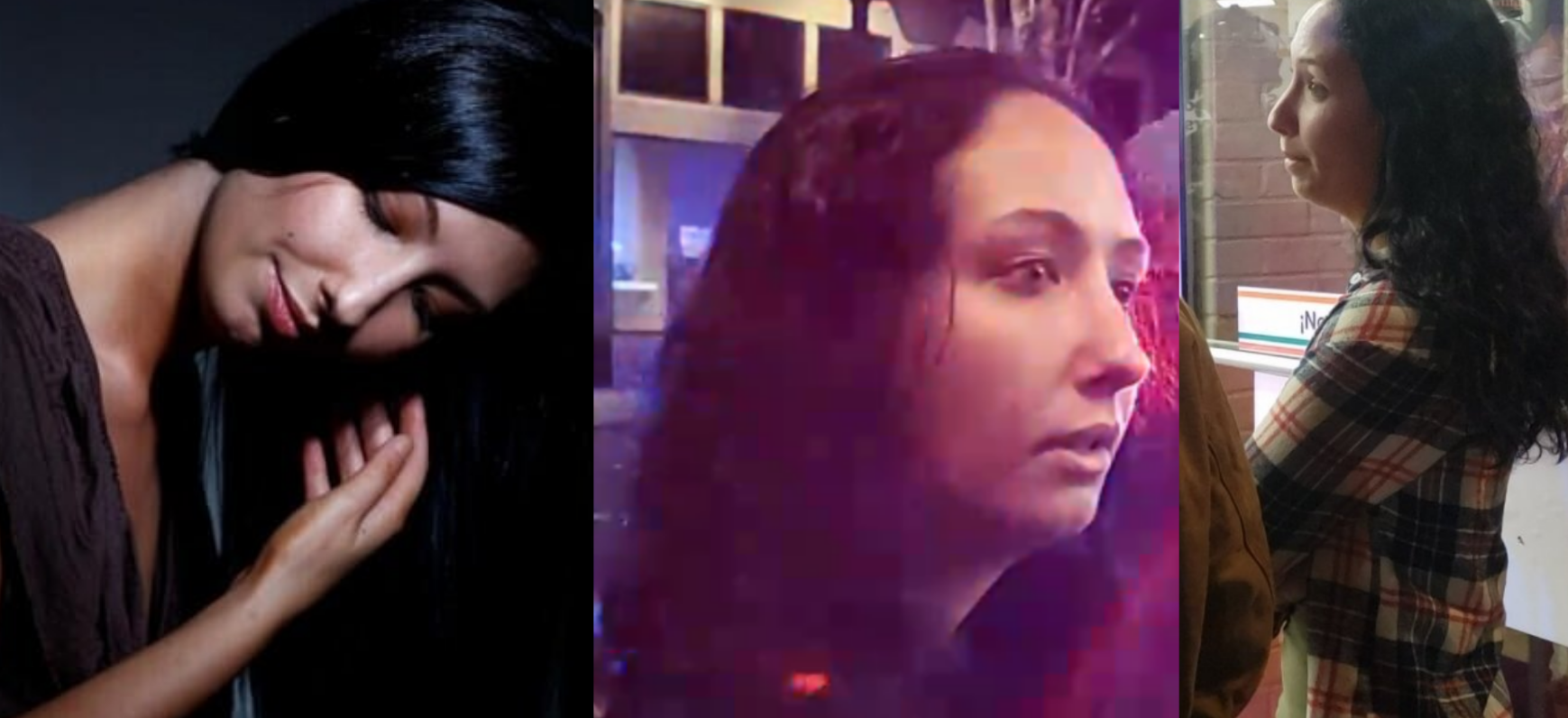 Sorbeah Amr Almosa, aka Ara Almosa
Almosa got her start running pro-police groups, appears to aspirationally model her grift after that of local white nationalist grifter Haley Adams, and has occasionally made excursions to harass and threaten Black Lives Matter protesters along with local aspiring alt-right organizer Daniel Baxter Worth.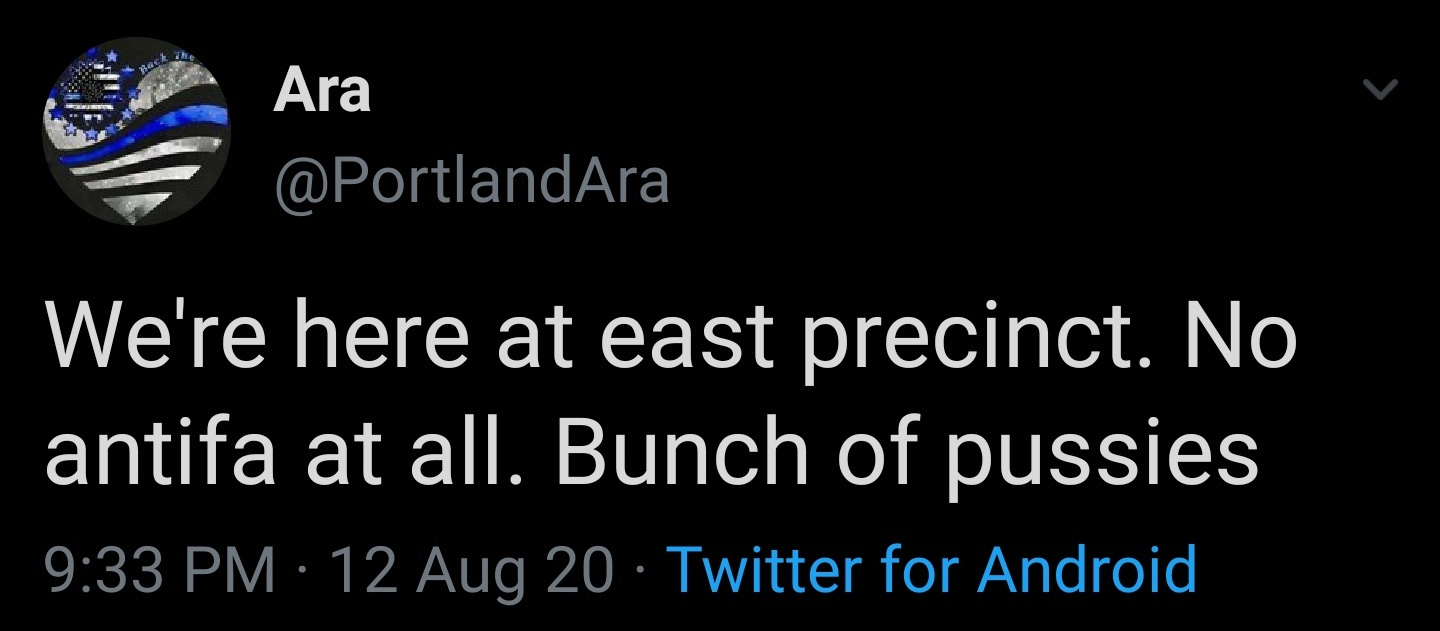 On 8/12, Sorbeah Almosa and a number of her far-right friends posted about their intentions to harm Black Lives Matter protesters, gathered in an armed convoy, traveled to a location where no protests had been planned or announced, and then declared epic victory.

Amber Cummings (right) is seen in Portland with Proud Boys hate group members Anthony Bell and Rob Cantrall, violent fascist Josh Sentelle, and Christopher Ritchie, who participated in the deadly "Unite The Right" neo-Nazi rally in Charlottesville in August 2017. – photo from NoCARA
This PDX event resembles a number of similar public organizing efforts (mostly in the Bay Area) by Cummings, most of which have ended in disastrous, embarrassing failure for her and anyone who chooses to participate in public action with her. For background, we recommend NoCARA's excellent profile: Welcome on Board to the Violence: Amber Cummings Gives a Platform to White Nationalism.
RECENT RELATED EVENTS
On August 15, 2020—after advertising that he expected 200 Patriots worth of backup —violent, racist, Proud-Boys-hate-group-reject Alan Swinney held a very small "Flag Wave" event at the Justice Center in downtown Portland along with a number of current and former Patriot Prayer affiliates, assorted far-right militia chuds, and various "conservatives" who do not mind rallying with the like of David Willis and other local neo-Nazis. A small counter-protest hurled accurate and entirely justifiable ridicule at the alt-right agitators. Fascist Alan Swinney and neo-Nazi David Willis responded to the taunts with indiscriminate blasts of bear mace as well as paintballs and potentially-lethal hard pellets fired from airsoft guns at counter-protesters and bystanders alike. Patriot Prayer member Skylor Jernigan also repeatedly shot at people with an airsoft gun, including firing downward at counter-protesters and bystanders from the upper levels of a downtown parking garage. During their exit from the parking garage, Jernigan also fired live ammunition into a crowd from a handgun out of the window of his car while driving.
Nearby PPB officers, as per usual, did not attempt to interfere whatsoever during the course of these far-right assaults, and issued no statement (save shrugging off a journalist's request for comment) on the shooting for nearly two days. Shortly after the main chud contingent seemed to have departed, a pipe bomb was thrown from a black SUV.
Far-right and fascist agitators associated with organizations like Patriot Prayer and the Proud Boys hate group simply do not ever hold events in which they aren't actively seeking to assault and harm people. This is the context in which we issue this information, and call upon our community to inform, protect, and defend one another.
WHO'S WHO
LINDSAY GRATHWOHL
First up in the who's who of also-rans is Lindsay Grathwohl, of the FBI informant Grathwohls. Lindsay takes part in organizing far-right rallies in the Bay Area featuring groups like the Three Percenters and the neo-Nazi Golden State Skinheads. Her persona as a run-of-the-mill Republican Trump supporter provides a fig-leaf of legitimacy for the stable of violent fascists that show up to the rallies. Lindsay is slated to be a speaker on August 22.

photo borrowed from NoCARA
HALEY ADAMS
Arguably best known for continually embarrassing herself and constantly begging for donations, white nationalist grifter Haley Adams will also be in attendance on August 22. Lately, Haley has been bragging on Twitter about the violence done on her behalf at the August 15 event. Memorable Haley Adams moments include holding a rape apologism rally in November of 2018 and roaming around downtown Portland with a neo-Nazi meme placard ahead of a KKK rally in early 2020. Adams also openly endorses neo-Nazi "White Pride".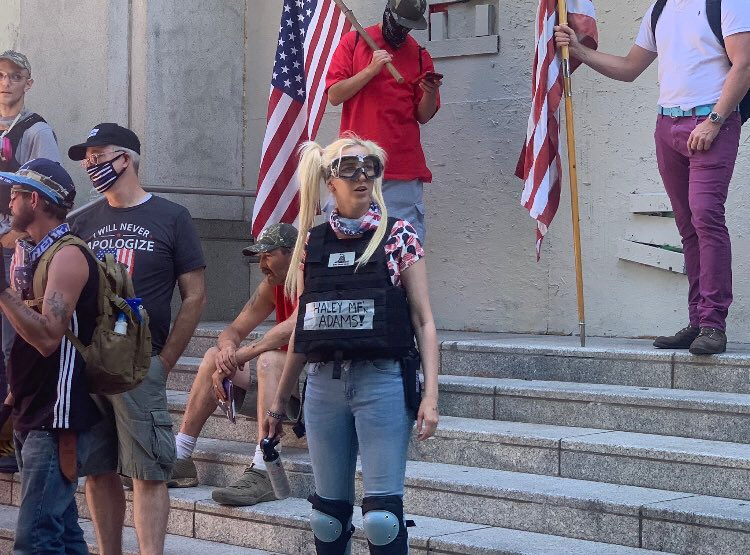 Haley Adams is seen on 8/15/2020 with Patriot Prayer Holocaust denier Gregory Isaacson, twice-disgraced ex-Proud Boys hate group member Reggie Axtell, attempted-mass-shooter Skylor Jernigan, and others.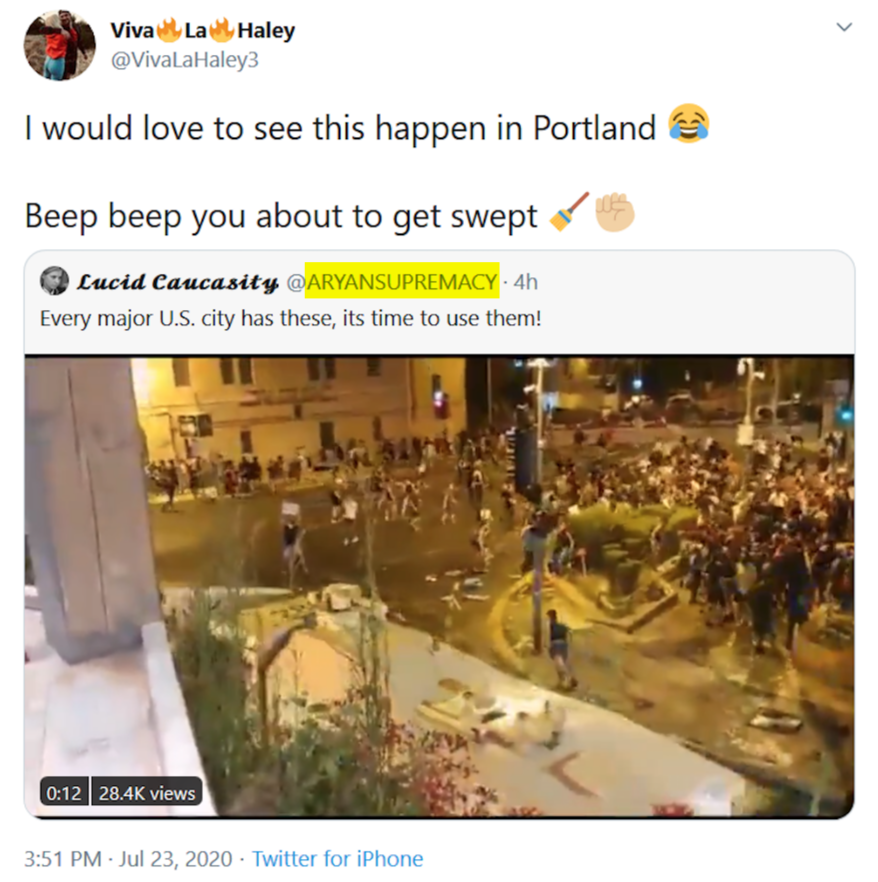 Haley Adams retweets a neo-Nazi with the handle "Aryan Supremacy"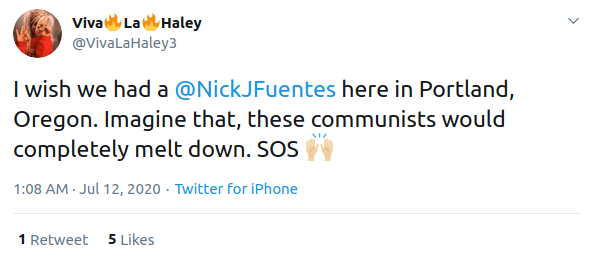 Haley Adams tries to get attention from white nationalist Holocaust denier & "groyper" movement leader Nick Fuentes.
MACK LEWIS
Mackenzie Lewis, who despite all appearances is definitely not Haley Adams' ex-boyfriend Nate, has been a regular at Portland chud gatherings for the past few years, and is currently involved in criminal proceedings regarding the May 1, 2019 attack on Cider Riot patrons, one of many Patriot Prayer events at which he committed brazen assaults alongside neo-Nazis.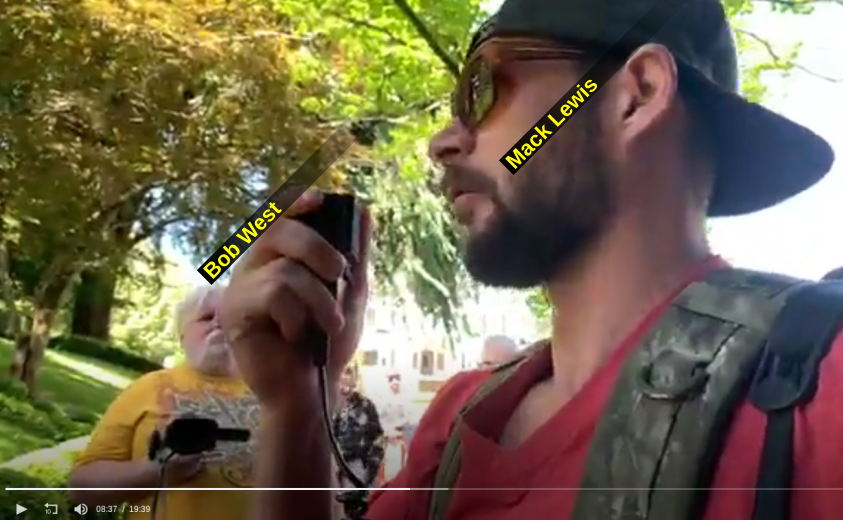 Mack Lewis is seen with violent Patriot Prayer sex offender Bob West
ALAN SWINNEY
Proud Boys reject, disgusting racist, and violent fascist organizer Alan Swinney acted as Haley Adams' bodyguard on August 15, and bragged about liberally bear-macing and firing an airsoft gun at Portlanders who stood in opposition to him and the rest of the far-right clowns in attendance. Swinney is a longtime presence on the alt-right scene, having repeatedly worn out his welcome in various areas of the country. In 2019, leaked chats exposed him and other members of the fascist Proud Boys hate group planning violence and murder while coordinating "security" for neo-Nazi Michael Moura.
Swinney is a clown, a reject, and a grifter; but he is also frequently armed, highly racist, military trained, and consistently makes statements indicating he is actively seeking lethal, even apocalyptic confrontation and violence. Swinney also frequently fantasizes about being deputized by Donald Trump to murder political dissidents or personally put them into concentration camps.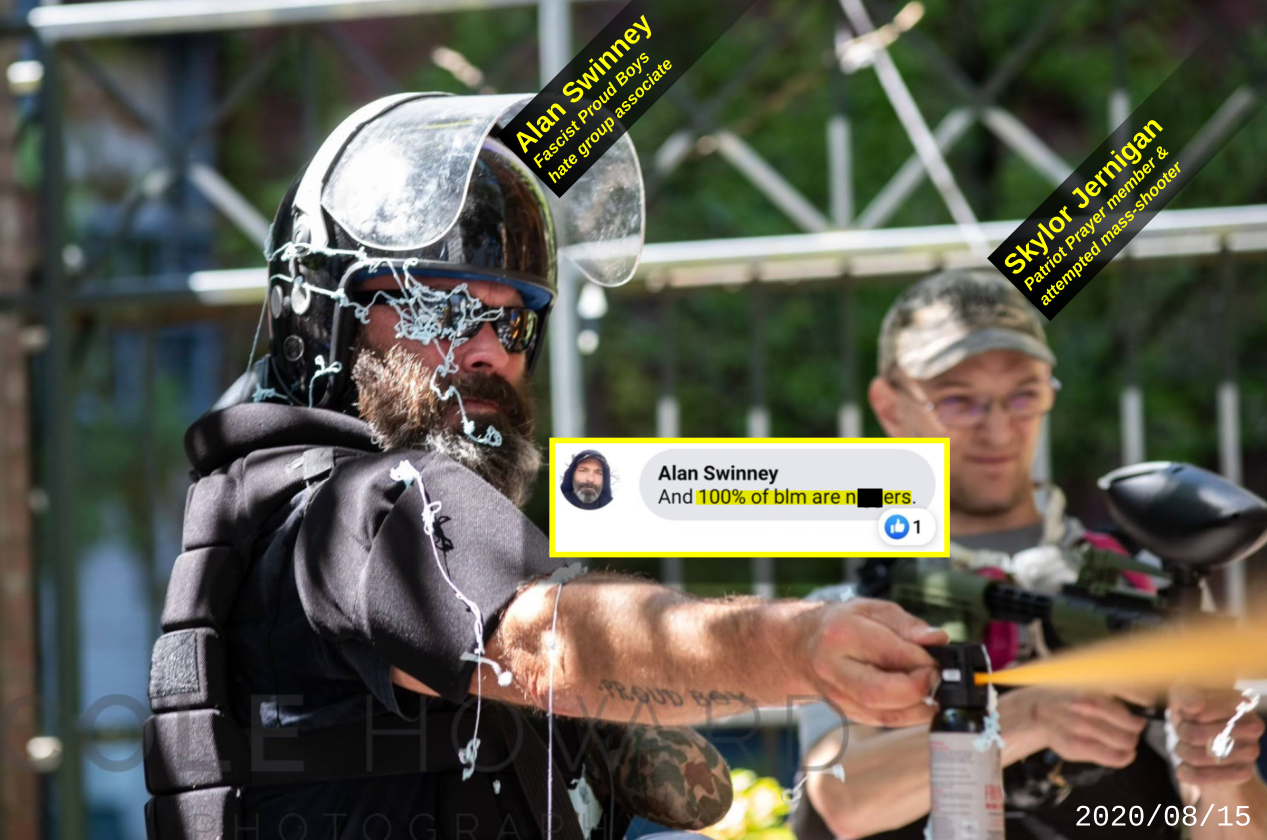 Alan Swinney sprays bear mace in downtown PDX, while Patriot Prayer attempted-mass-shooter Skylor Noel Jernigan shoots people with potentially-lethal hard plastic pellets. Jernigan shot live ammuniation into a crowd from a moving vehicle later that day.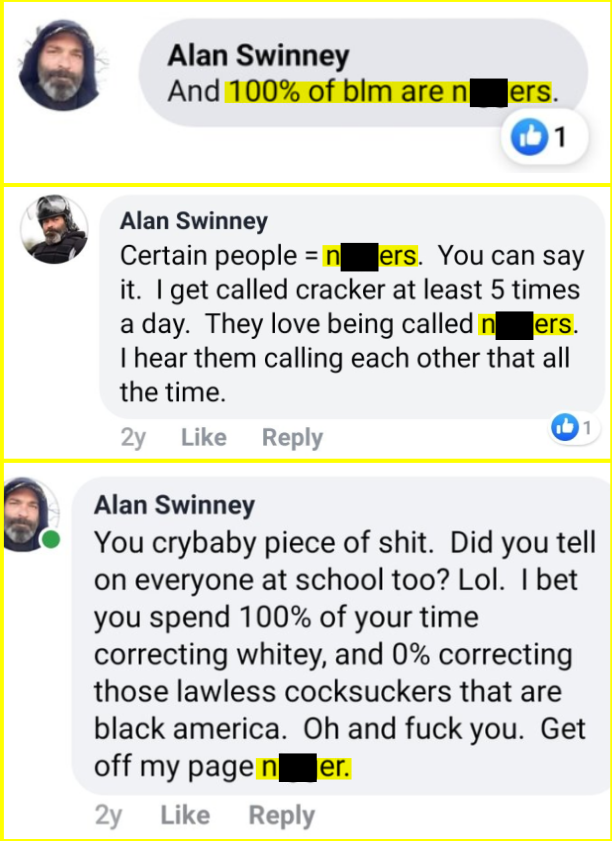 Violent fascist Proud Boys hate group associate Alan Swinney says that "100% of blm are n—ers"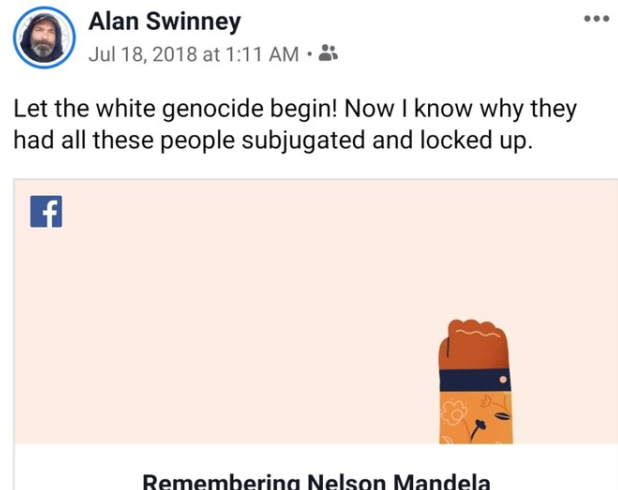 Swinney references the neo-Nazi "White Genocide" conspiracy theory.
ALYSSA VINSONHALER
Failed City Council candidate Alyssa Vinsonhaler loves to tag along with Haley Adams when she's not flirting with QAnon conspiracy theories and posting racist Rhodesia apologia or neo-Nazi memes. Alyssa's bizarre narcissism drew her into the orbit of local fascists, who condescendingly flatter her neurotic vanities so long as she makes herself useful to them.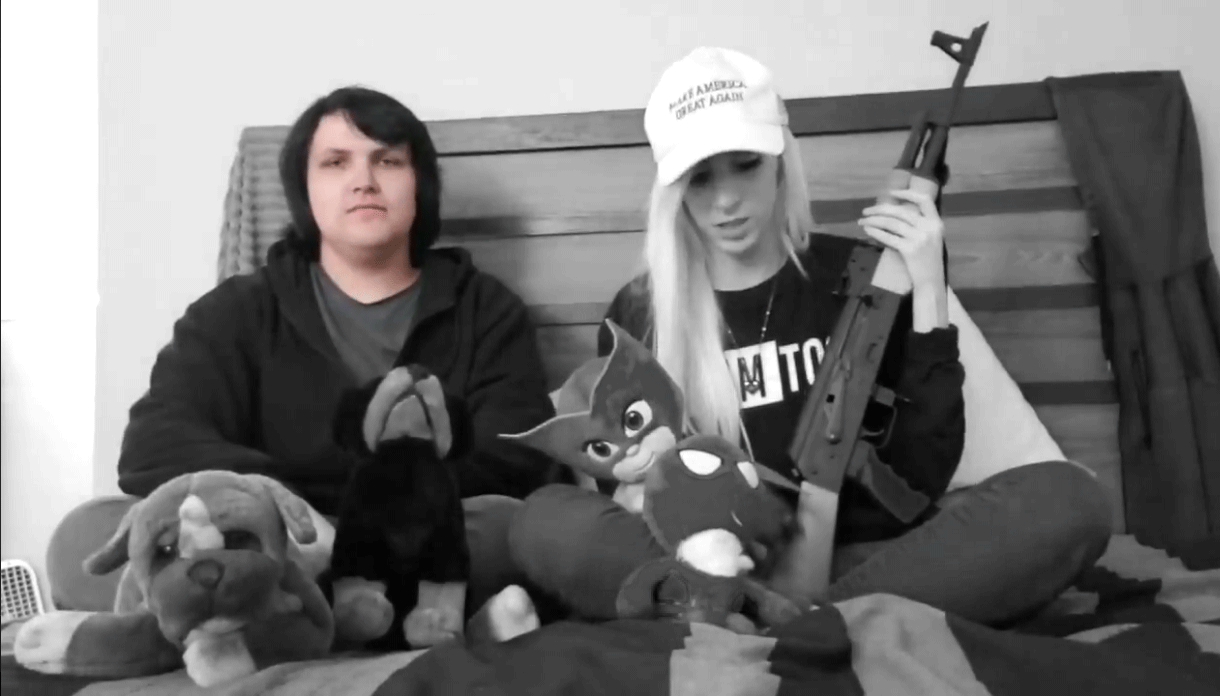 Alyssa Vinsonhaler with her alt-right white nationalist, homophobic & transphobic friend Haley Adams.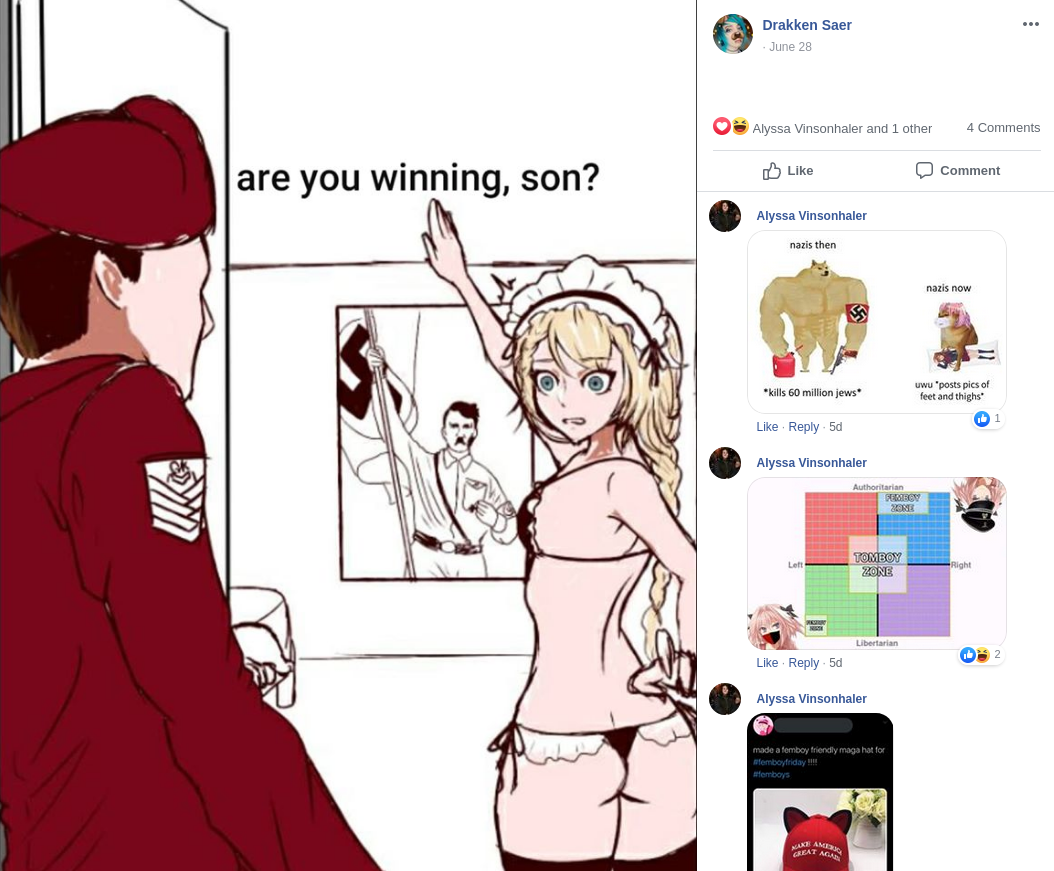 Vinsonhaler enjoys posting neo-Nazi memes on Facebook with her friend, infamous antisemitic neo-Nazi and QAnon fanatic Lilith Anton Saer, aka Drakken Saer
DREW DUNCOMB
As we described in a recent Twitter thread, Drew Duncomb is a Proud Boy affiliate and slavery apologist who attended the deadly Unite the Right neo-Nazi rally in Charlottesville. When not macing himself with his own gear, Drew spends a lot of time soliciting donations to maintain his lifestyle of traveling to assault people at far-right rallies.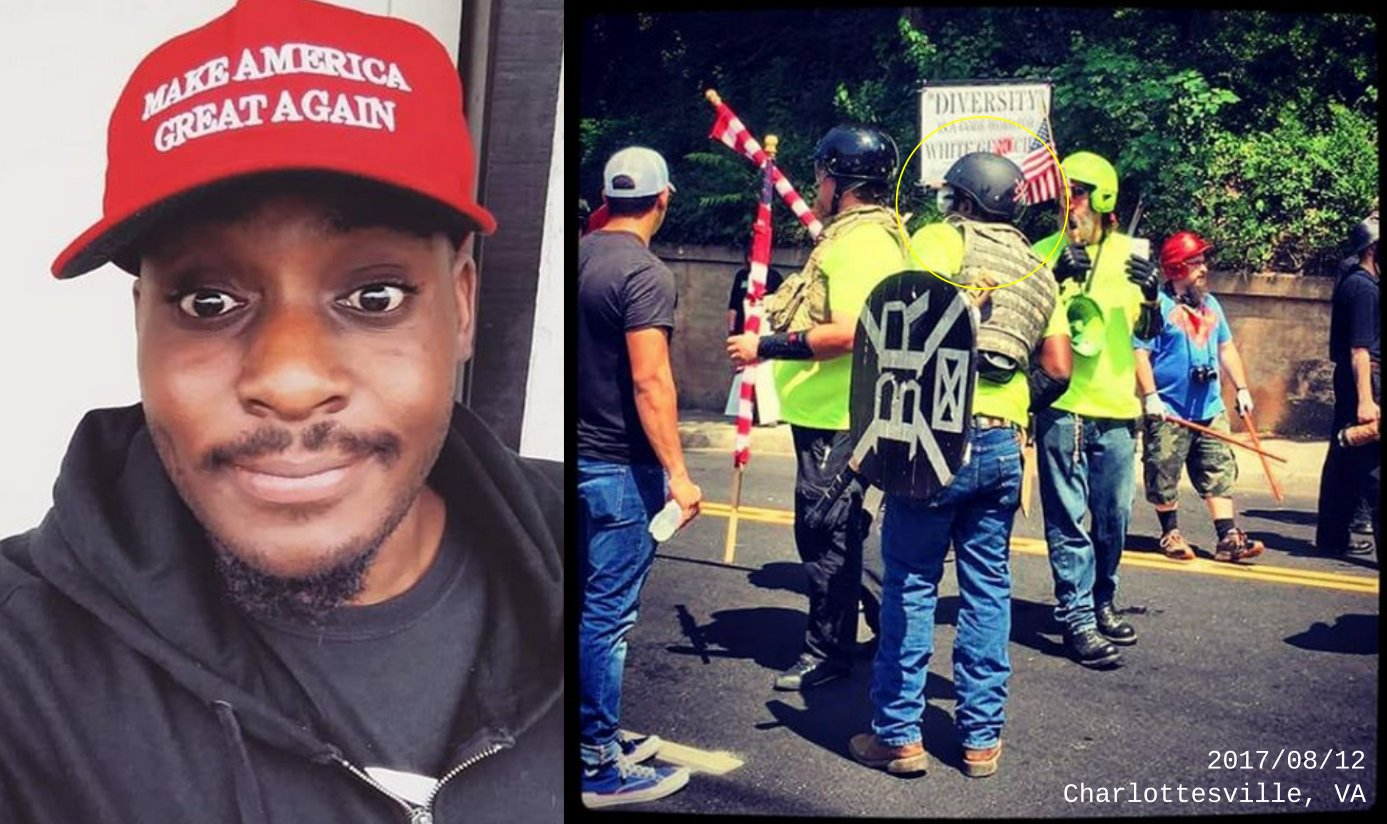 Drew Duncomb (L), at a deadly neo-Nazi rally with neo-Nazis (R)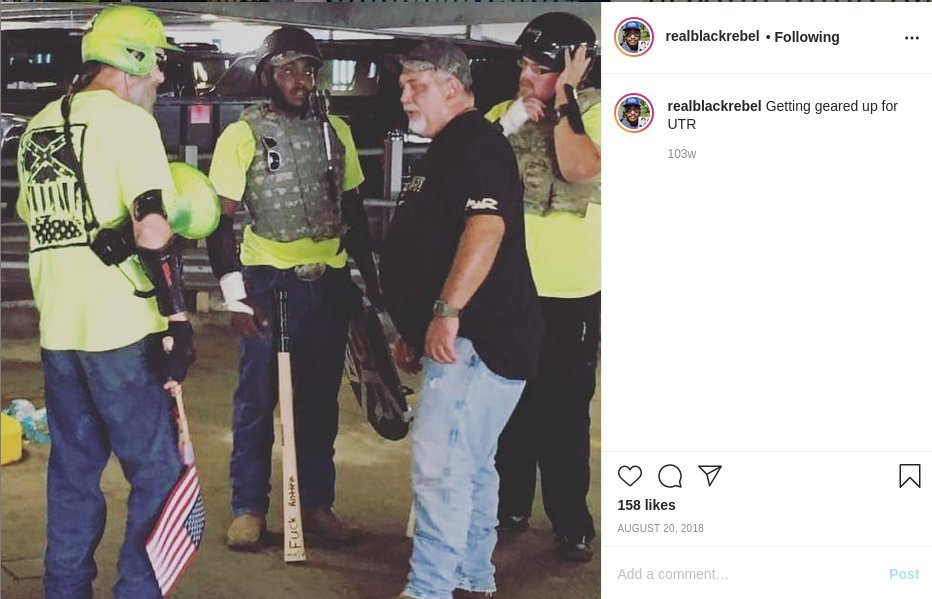 Drew Duncomb carries a weapon which reads "FUCK ANTIFA" to participate in the 8/12/2017 "Unite The Right" rally at Charlottesville, VA where Heather Heyer was murdered by one of the neo-Nazis Duncomb rallied with.
BILLY SESSIONS
Billy Sessions aka Billy Helton is a violent, racist neo-confederate agitator. He is also the leader of a racist hate group called "The Hiwaymen" and rallied with neo-Nazis at the 2017 "Unite The Right" rally in Charlottesville, VA where neo-Nazi James Fields murdered Heather Heyer. Fascist agitator Drew Duncomb was also present with the Hiwaymen at the deadly Nazi rally. Sessions has been somewhat coy about whether or not he intends to be at neo-Nazi-collaborator Amber Cummings' alt-right event on Saturday, but made several posts to social media over the past week indicating that he had been in Portland.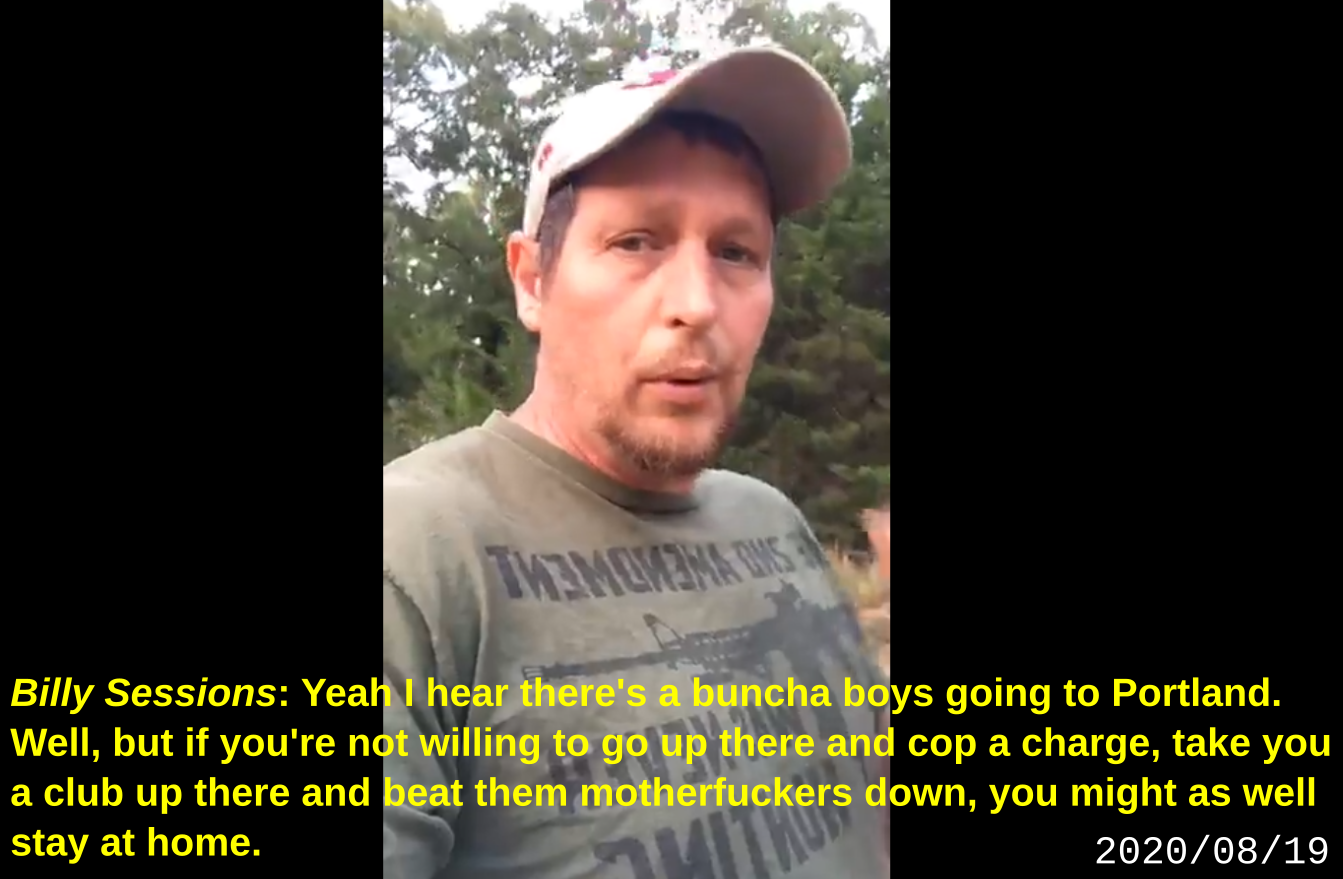 Racist neo-confederate agitator & neo-Nazi collaborator Billy Sessions aka Billy Helton explicitly calls for fascist violence from people attending alt-right agitator Amber Cummings' event in PDX.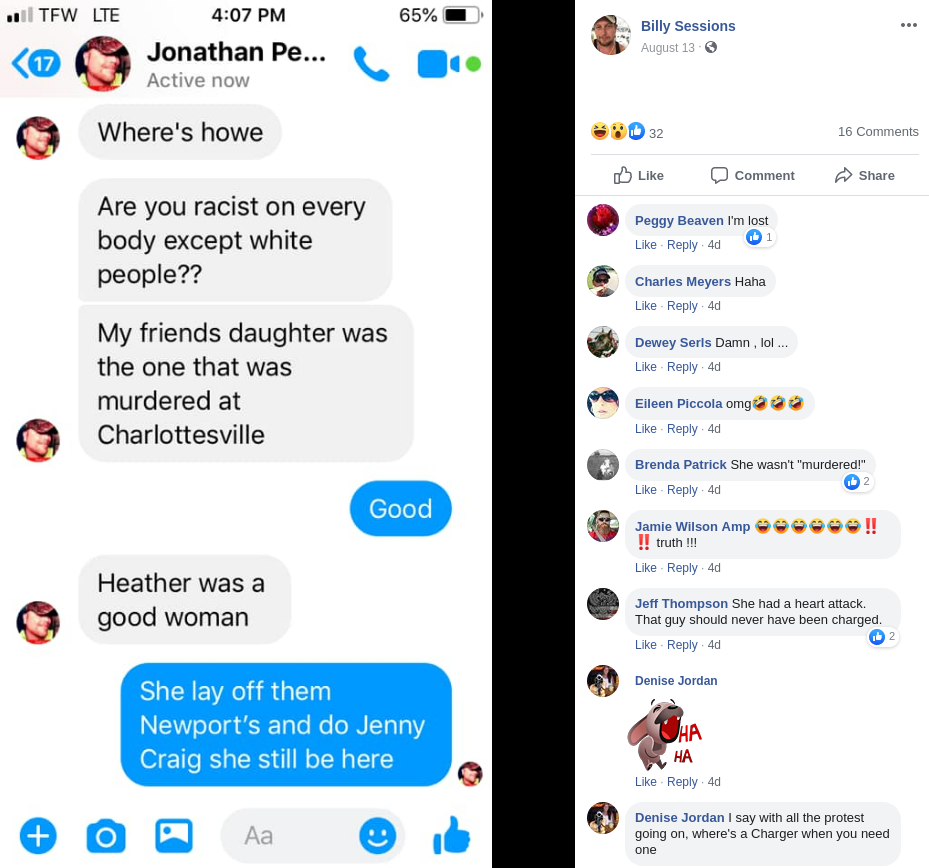 Billy Sessions, who marched at the deadly "Unite The Right" rally, celebrates the murder of Heather Heyer by his fellow fascist rallier, neo-Nazi James Fields of American Vanguard. Sessions made this post one day after the three year anniversary of Heyer's murder.
JEN LOH
"Straight Pride" enthusiast and far-right rally organizer Jennilyn Kae Lohmer Salinas aka Jen Loh announced that she is making the trip up from Texas to be in Portland this weekend, presumably to attend the 8/22 rally though her Facebook post about it is just too cryptic.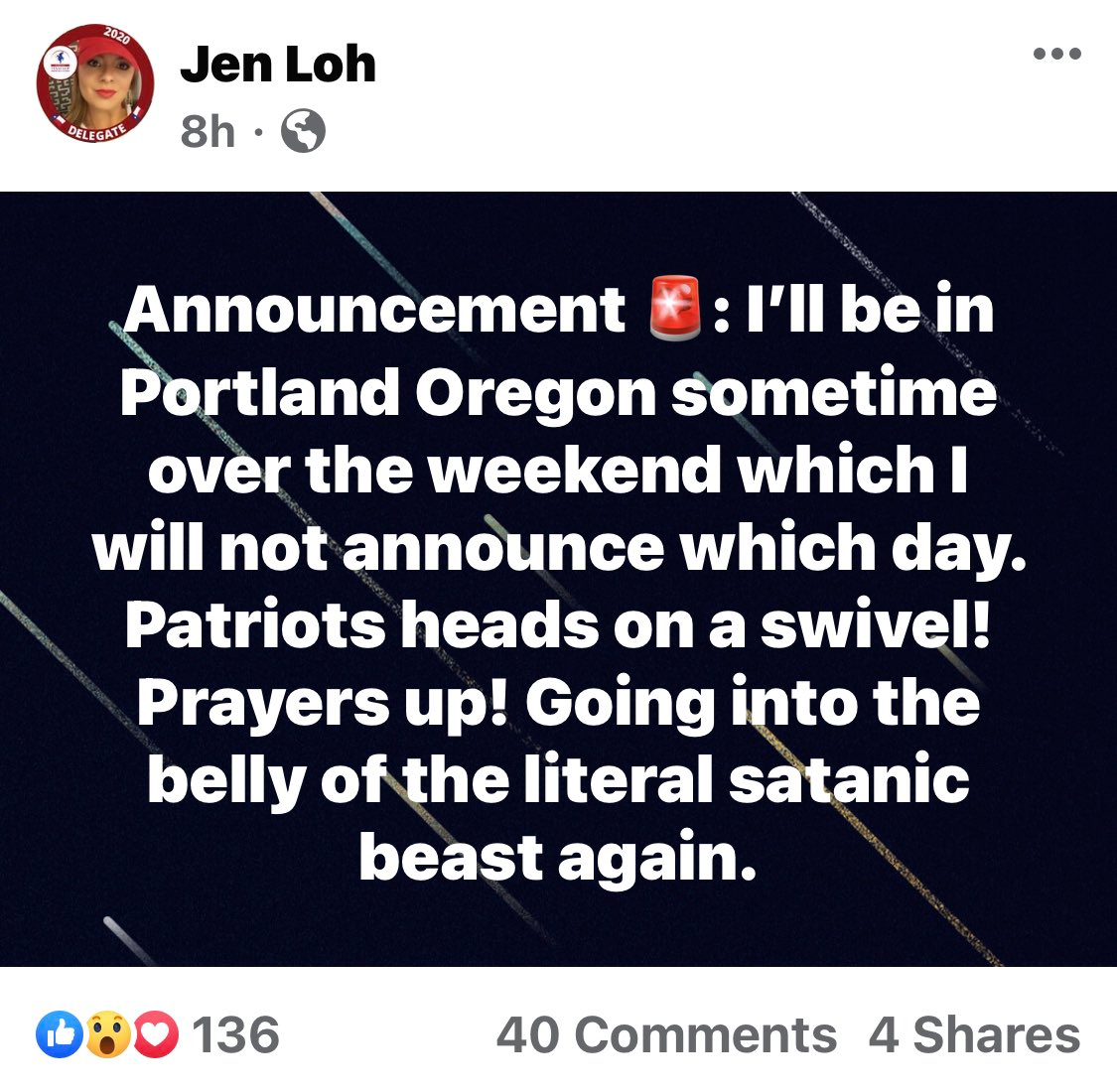 Alt-right agitator Jen Loh announces her intentions to be in PDX on the weekend of neo-Nazi collaborator Amber Cummings' far-right rally.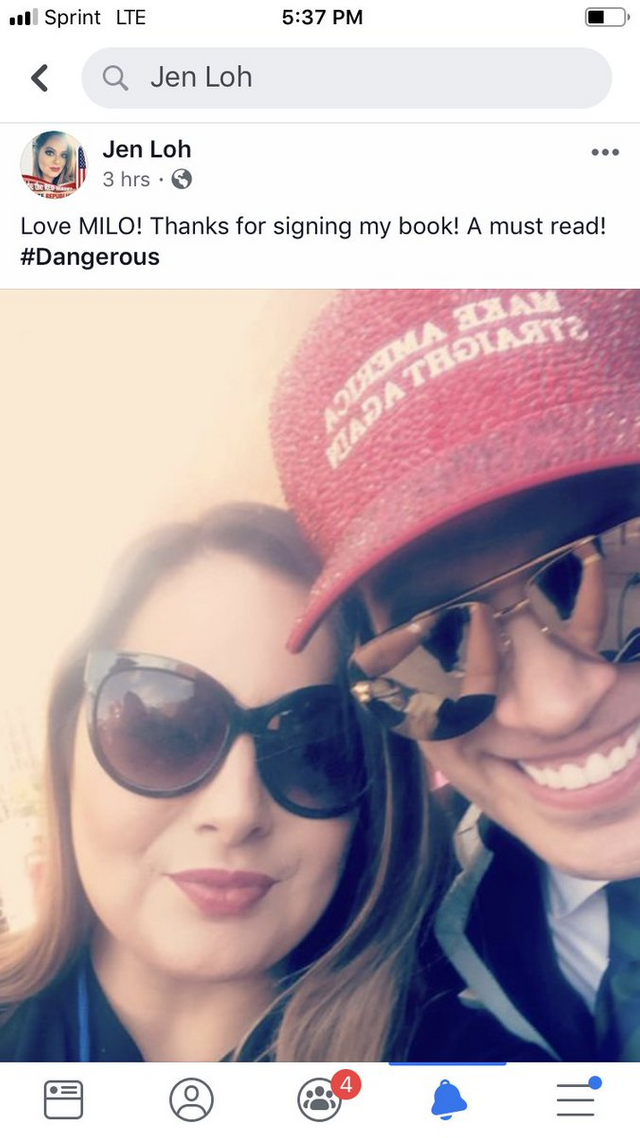 Jen Loh poses with disgraced neo-Nazi propagandist Milo Yiannopoolos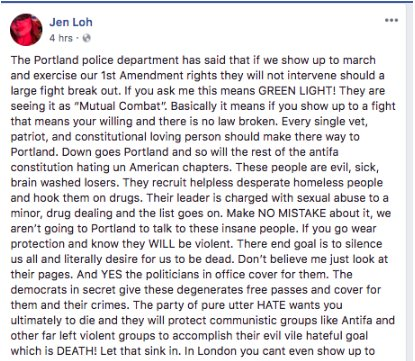 Jen Loh recites a litany of dehumanizing far-right talking points about people who oppose violent neo-Nazi organizing, and calls for violence against Portlanders. This post was made before Joey Gibson's 8/4/2018 hate rally.
DIXIE BAILEY
Dixie Lea Bailey (nee Deweese, DOB: 02/14/1989), co-owner of Mt Hood Cigar Co, helped organize the August 15 "flag wave" standing alongside fascists like Proud Boys hate group associate Alan Swinney, neo-Nazi David Willis, and white nationalist troll Haley Adams. Swinney has been spending a lot of time with Bailey apparently shooting guns on her property in Rhododendron, OR along with Drew Duncomb, a slavery-apologist who marched in the deadly 2017 "Unite The Right" neo-Nazi rally where Vanguard America member James Fields murdered Heather Heyer with his car. Dixie Bailey has also expressed support for neo-Nazi organization Patriot Front, which formed out of the ashes of Vanguard America after Heather Heyer's murder at Charlottesville. Bailey's partner Christopher Anthony Bailey also owns Durus Construction LLC.
RCA feels certain that people in the Sandy, OR area can find sources for cigars & construction services which do not support neo-Nazi organizing.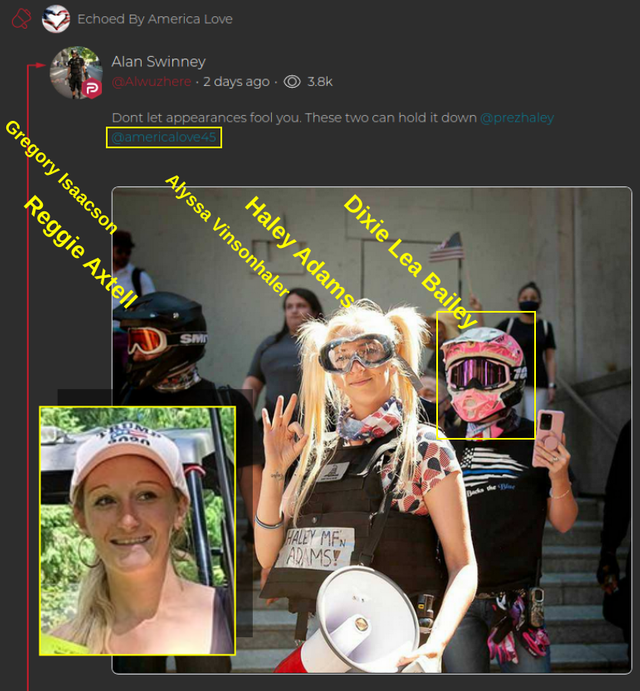 Dixie Bailey poses with white nationalist troll and on-again-off-again Patriot Prayer affiliate Haley Adams, violent Proud Boys reject Reggie Axtell, racist failed city council candidate Alyssa Vinsonhaler, Holocaust denier Gregory Isaacson, and others at Swinney's violent "Flag Wave" event on 8/15, where Skylor Jernigan attempted to perpetrate a mass shooting.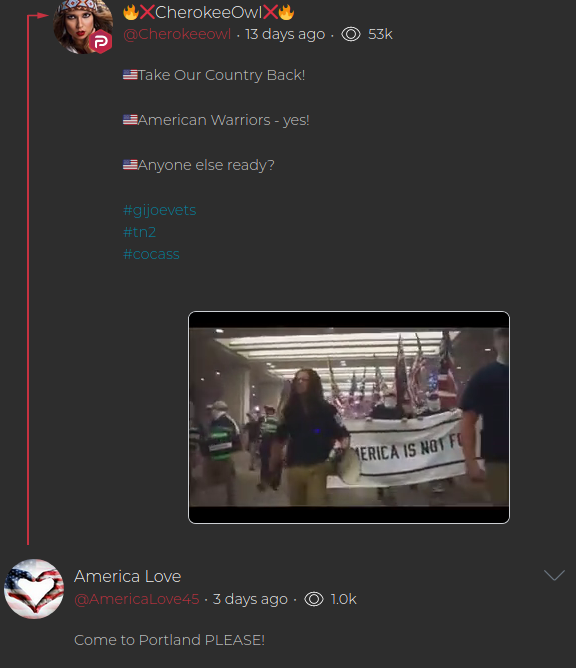 Mt Hood Cigar Co. co-owner Dixie Bailey shares a fascist propaganda video which depicts neo-Nazi organization Patriot Front marching through a parking garage, and requests that they "Come to Portland PLEASE!"
QUINCY FRANKLIN
Hate preacher, rape apologist and White Power enthusiast Quincy Franklin showed up on August 15th, and will likely be present again on August 22nd. While not at his job working for the City of Portland, Franklin spends his time with openly white nationalist hate preacher Allen Pucket and attending events to assault, intimidate, and harass members of the LGBT+ community, Muslims, and immigrants.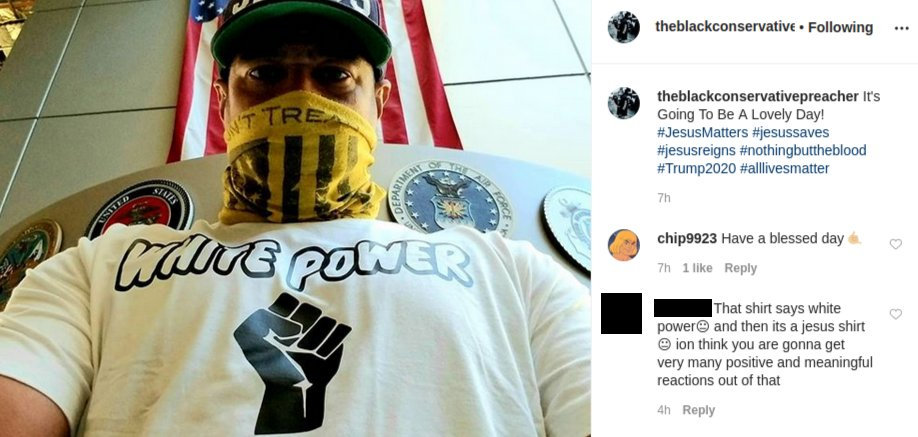 Portland Water employee Quincy Franklin makes an instagram post with the neo-Nazi shirt he intends to wear to harass people with racist & homophobic abuse at a Black Lives Matter rally.
JAMES HARRIS
James Patrick Harris is a very gullible young man, who is rapidly being drawn into alt-right & neo-Nazi circles. He likes to carry large blades while marching alongside neo-Nazis like David Willis.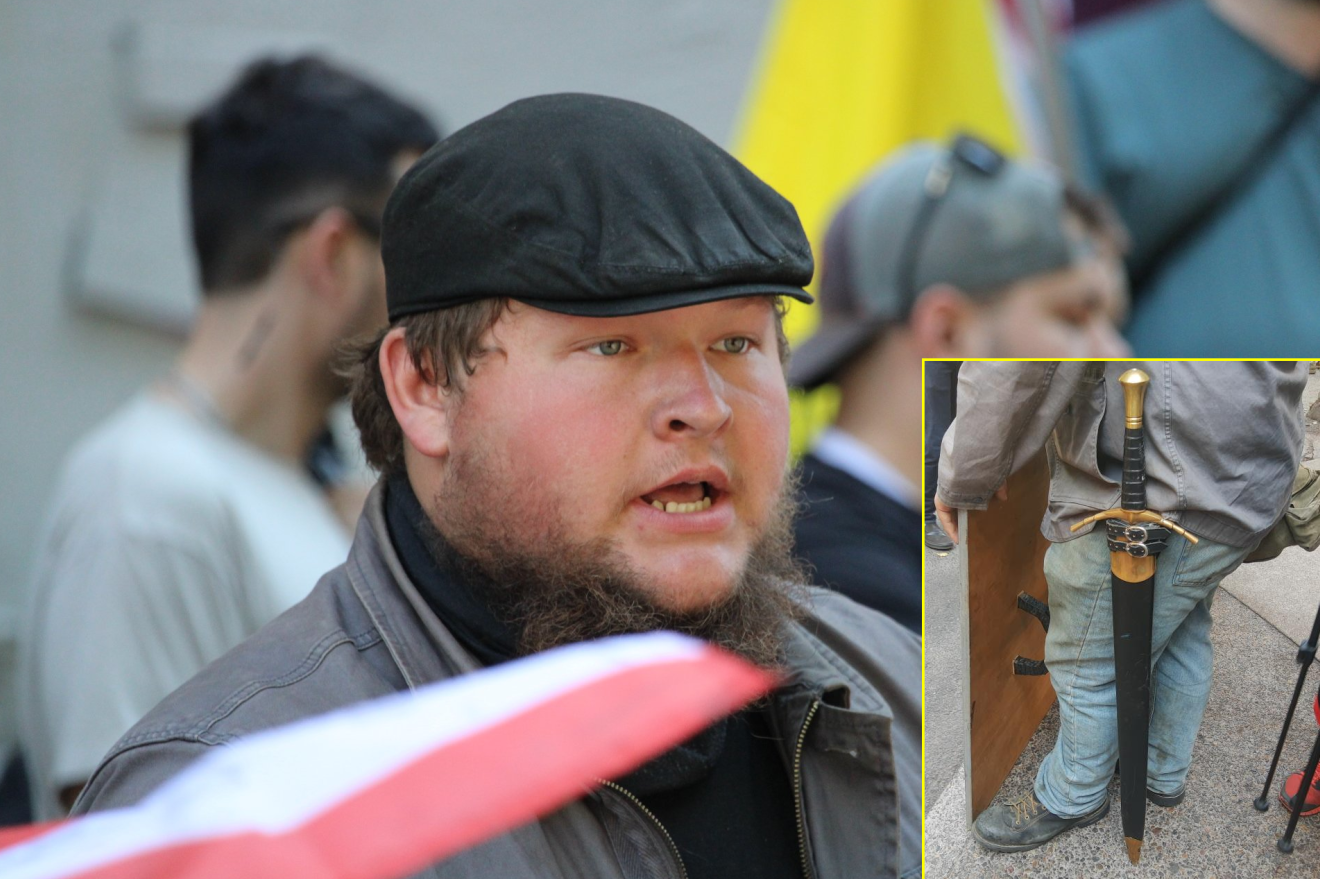 James Harris brought a sword to rally alongside the likes of neo-Nazi David Willis, white nationalist Haley Adams, & fascist Proud Boys hate group associate Alan Swinney.
TRACE ADAMS
Trace Adams aka "Bohica P-town" created the Facebook event page for violent fascist Proud Boys hate group associate Alan Swinney's event on 8/15/2020, where Swinney & his friends Drew Duncomb & neo-Nazi David Willis assaulted people with bear mace and shot potentially-lethal hard plastic pellets at them; and where Patriot Prayer member Skylor Jernigan shot live ammunition into a crowd from a moving vehicle.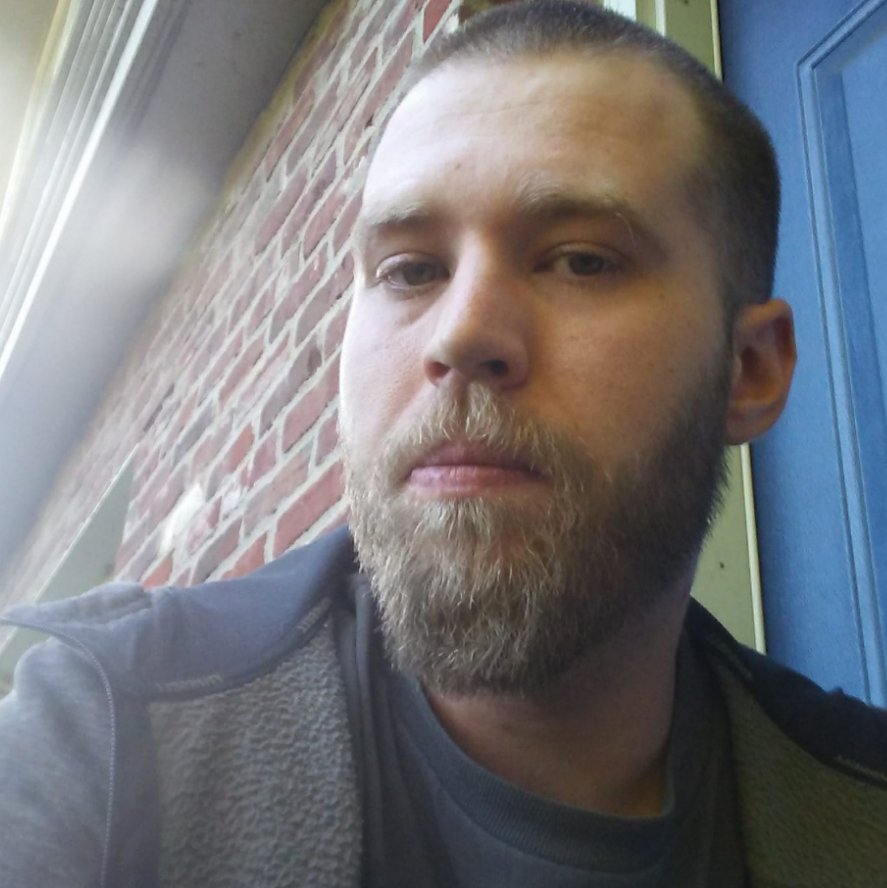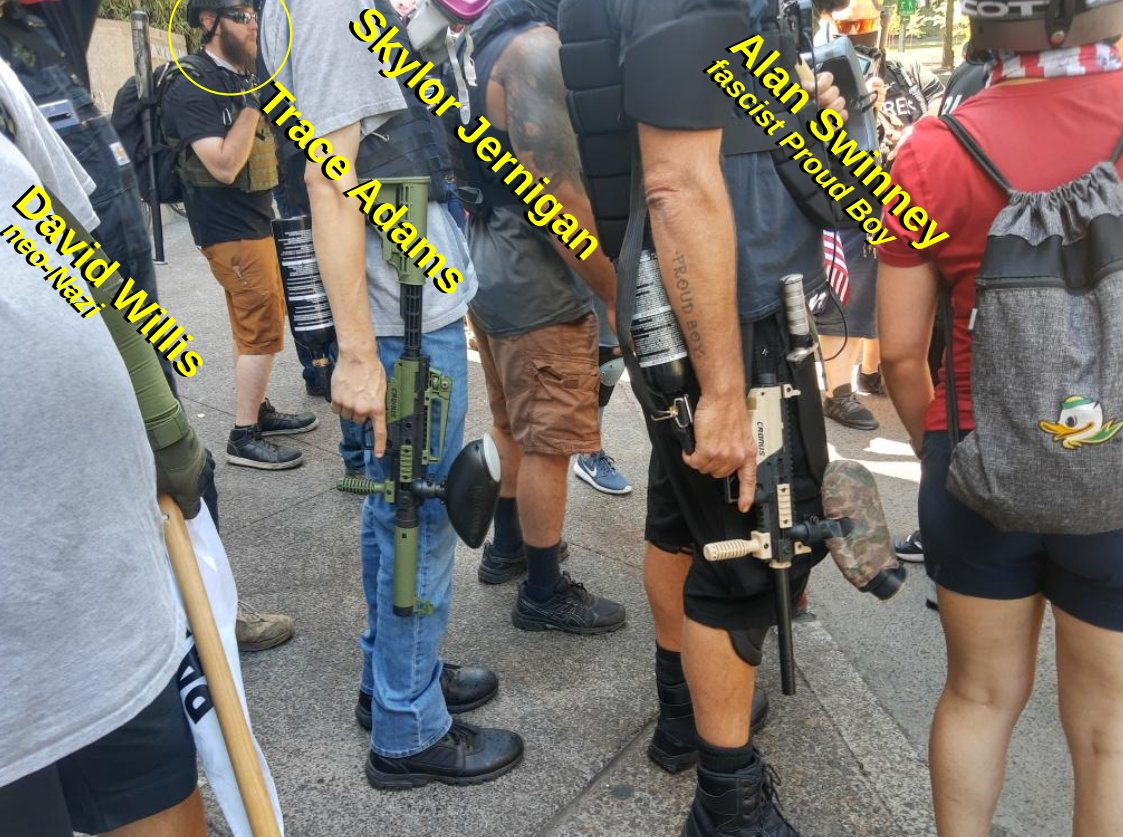 Trace Adams stands armed with a baseball bat alongside violent fascist Proud Boys hate group member Alan Swinney, neo-Nazi David Willis, and aspirational-mass-shooter Skylor Jernigan.
MARK MELCHI
Dallas, OR Trump fanatic Mark Eric Melchi is attempting to run a far-right lifestyle brand / militia called "1776 2.0". Melchi's social media posts indicate a desire for potentially-violent far-right pushback against Black Lives Matter protesters, and he has absolutely no problems deploying armed men in collaboration with overt neo-Nazis like David Willis, or intimidating bystanders alongside fascist agitators like Alan Swinney and Haley Adams. Melchi has also eagerly offered assistance to violent neo-confederate agitator Drew Duncomb, who participated in the deadly 2017 "Unite The Right" neo-Nazi rally. Melchi's apparent far-right propaganda consumption habits & eagerness for reactionary pushback against the movement for Black lives is highly reminiscent of ex-Navy Seal & alleged "anti-antifa" bomb-thrower Louis Garrick Fernbaugh.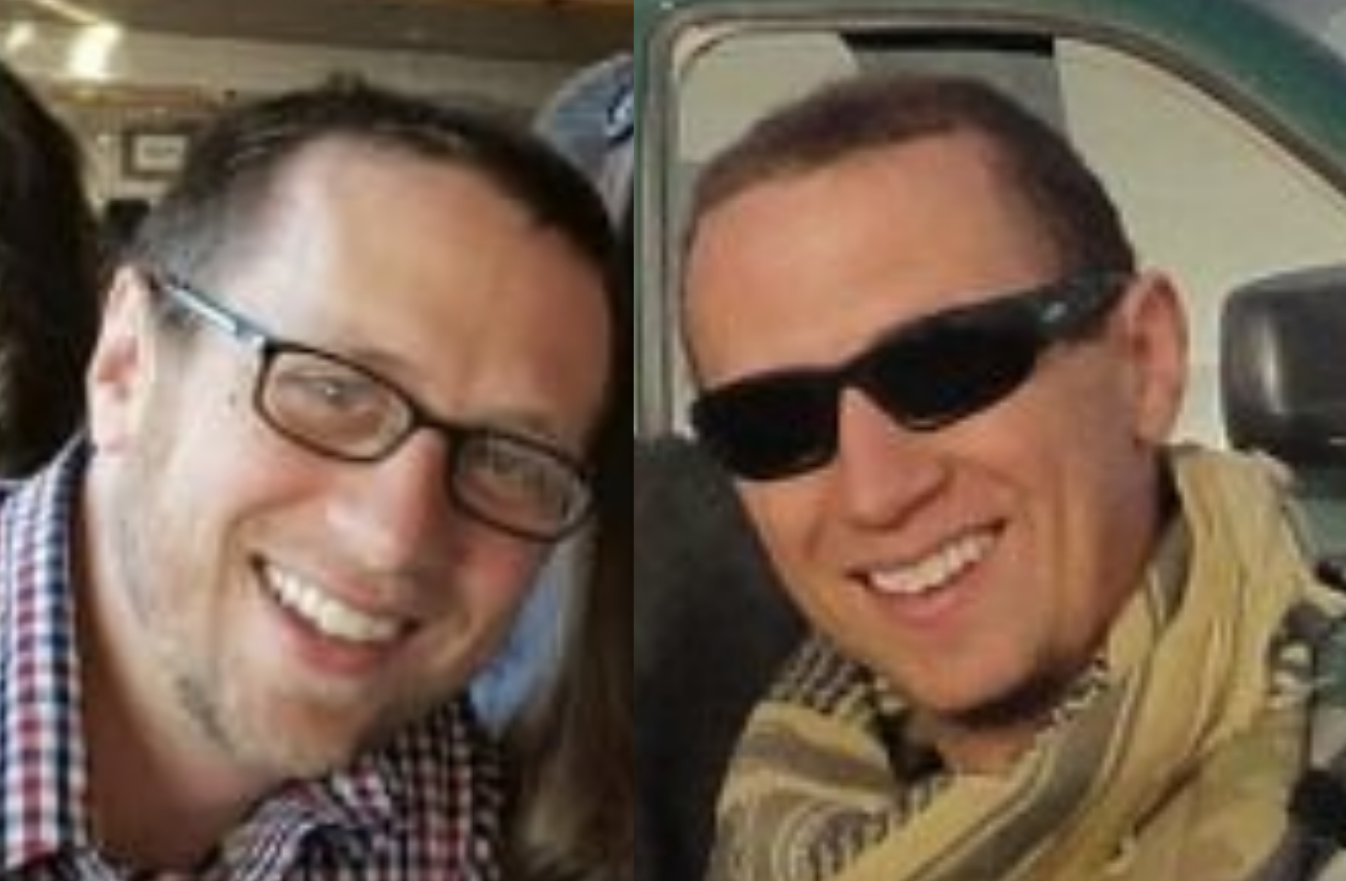 Far-right agitator Mark Eric Melchi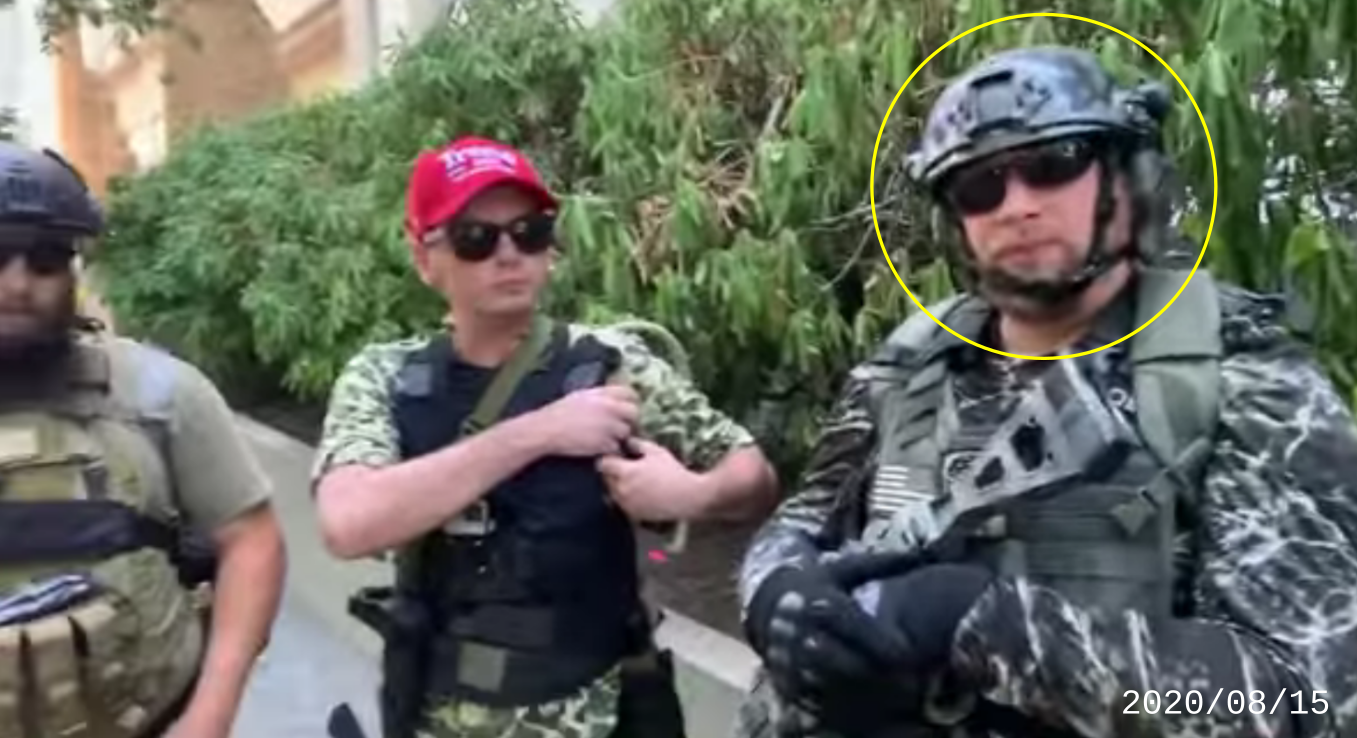 Mark Eric Melchi was present with his "1776 2.0" followers at fascist Proud Boys hate group associate Alan Swinney's aggressively violent "Flag Wave" event with various neo-Nazi and white nationalist agitators who assaulted, bear-maced, shot at, and attempted to murder Portlanders.
DAVID WILLIS
Lincoln City, OR resident David Charles Willis II is truly one of the more disgusting of the many neo-Nazis who have been galvanized into violence by Joey Gibson's alt-right Patriot Prayer organizing. Willis has frequently posted virulently antisemitic & pro-Nazi materials on social media and lost a number of accounts due to his habit of posting violent threats. Willis has also expressed admiration (via a dubious claim of direct affiliation) for the neo-Nazi bonehead gang "East Side White Pride" who were responsible for the vicious murder of Mulugeta Seraw. Willis has also been filmed assaulting Portlanders with bear mace and even beating people with a metal pole. For years Willis has attempted to elevate himself to a position of leadership in raising an army of fascists to assault Portlanders who oppose neo-Nazi violence, but has failed miserably and instead contents himself with looking for opportunities to carry out assaults at any right wing event he can get to. Now, newcomers to far-right organizing circles like Dixie Lea Bailey and Mark Eric Melchi are choosing to associate themselves with outright neo-Nazis like David Willis.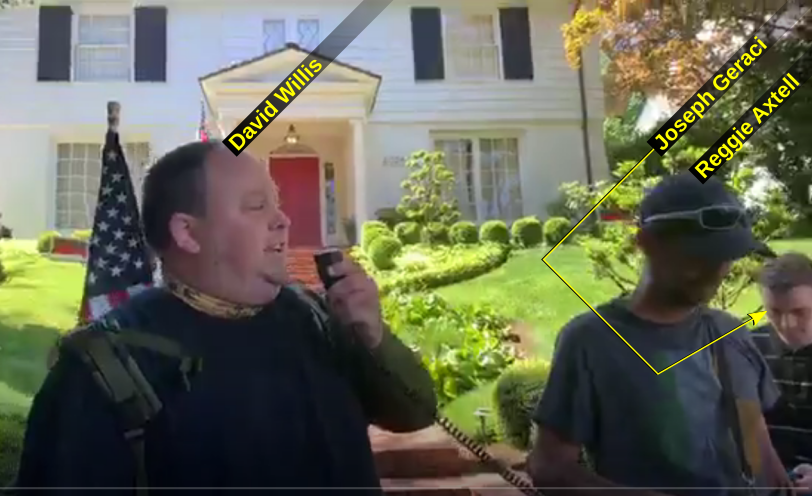 David Willis giving a speech outside the Mayor's house in 2019.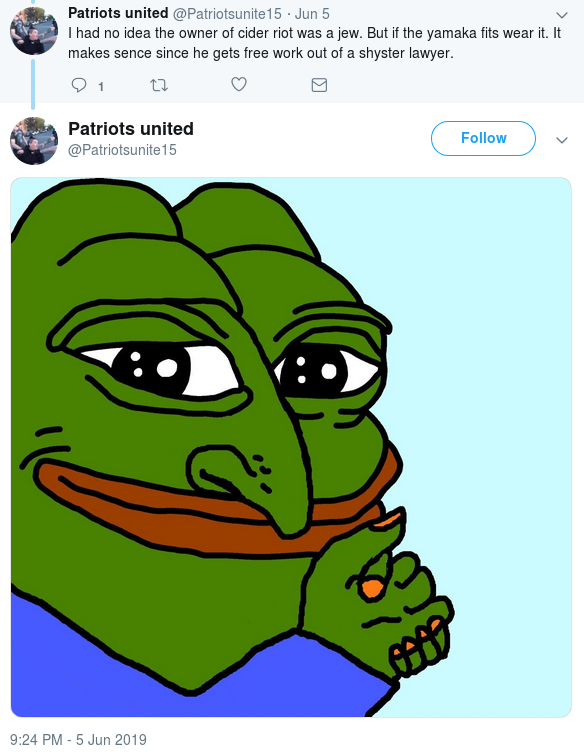 A small sample of David Willis' antisemitism on Twitter.
SKYLOR JERNIGAN
Skylor Jernigan is an admirer and devotee of white nationalist Patriot Prayer grifter and neo-Nazi propagandist Haley Adams. Jernigan took steps to make good on his 2019 threat to put "knives into throats…bullets into your heads" on August 15th, firing blindly at a crowd of people while driving his car. He had spent his afternoon earlier in the day shooting at people with an airsoft gun, including firing downward at counter-protesters and bystanders from the upper levels of a downtown parking garage. Notably, shooting projectiles from above dramatically increases their danger and risk of injury or death.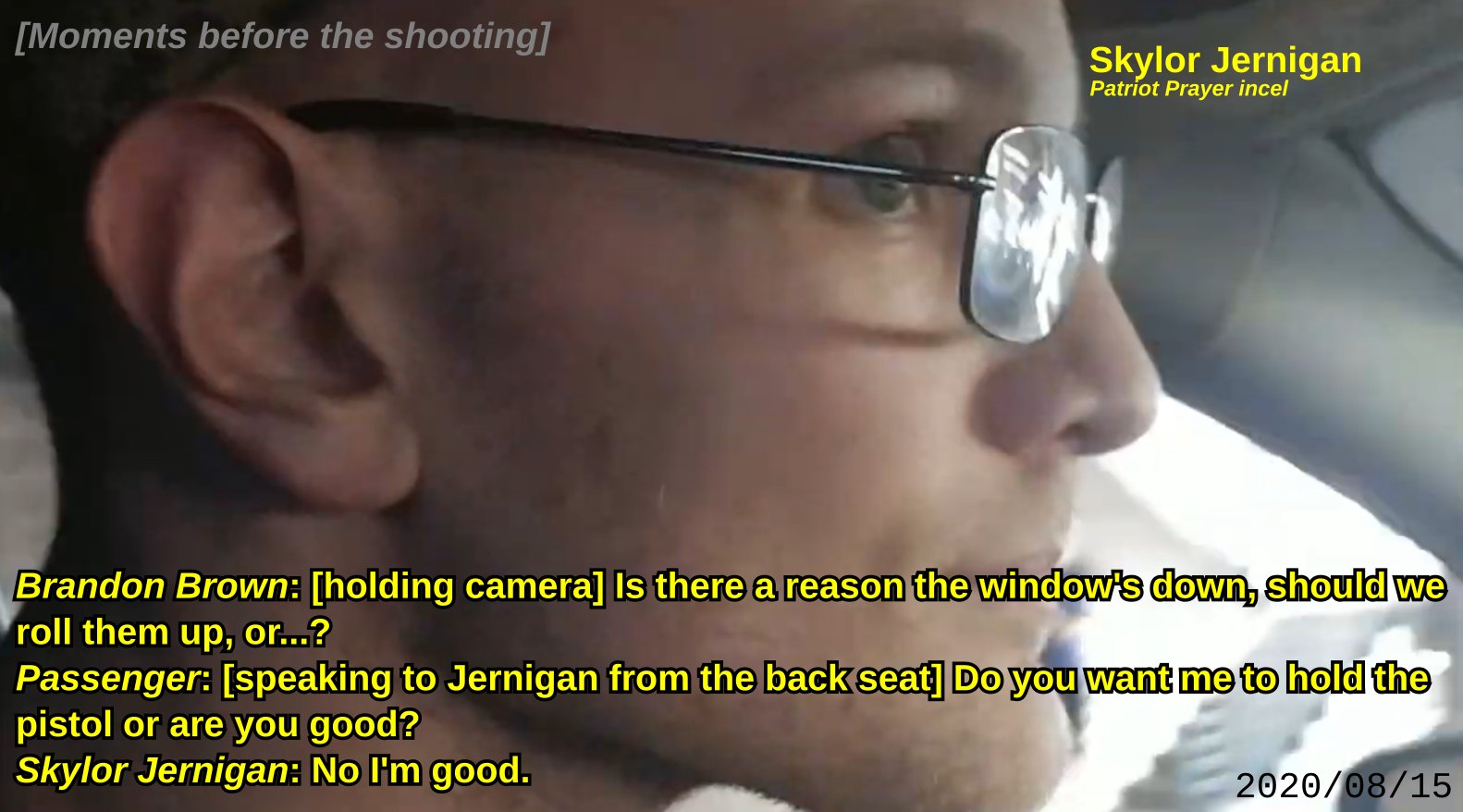 A still from video inside Skylor Jernigan's car moments before he open fires at a crowd.
INVOLVEMENT BY THE FASCIST PROUD BOYS HATE GROUP
ROBERT FUSSELL AKA REX FERGUS
Robert Jared Fussell aka Rex Fergus is an antisemitic member of the violent fascist Proud Boys hate group who operates an aimless podcast which regurgitates various far-right talking points and conspiracy theories. Fussell was spotted responding to alt-right bottom-feeder and neo-Nazi collaborator Amber Cummings' promotion of her event.

Robert Fussell (Left)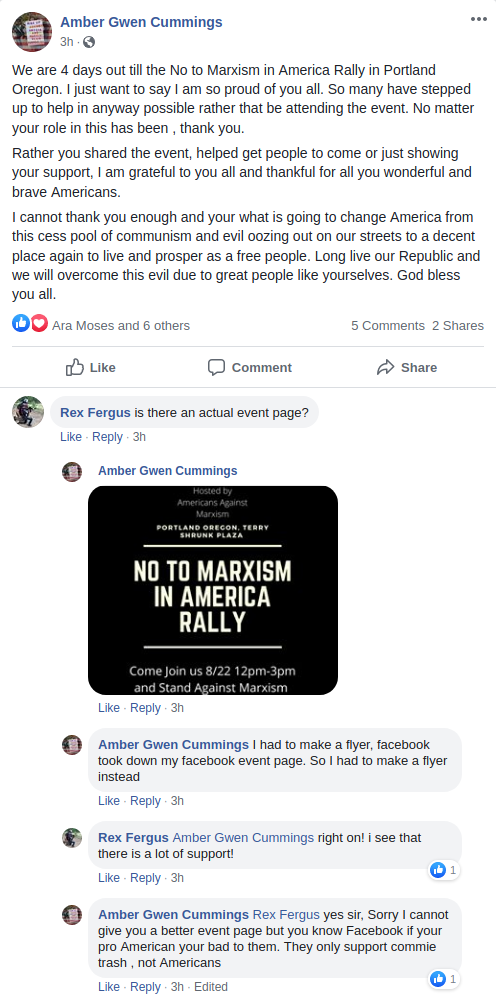 Robert Fussell chats it up with alt-right neo-Nazi collaborator Amber Cummings
TINY TOESE
Tusitala "Tiny" Toese is a notoriously violent and openly fascist member of the Proud Boys hate group. Toese has committed countless assaults against anti-fascists and bystanders alike, and despite having been arrested for one of his flagrant attacks, has been granted extraordinary impunity and lenience in constantly violating the terms of his parole. PPB has been caught helping Toese to avoid arrest in the past, as well as communicating the movements of anti-fascist activists to Joey Gibson and Tiny Toese in real time to facilitate their assaults. Despite the fact that there is an active warrant out for his arrest, Toese was spotted promoting Amber Cummings' 8/22 event on Facebook.
By contrast, the state has aggressively pursued charges against anti-fascists, sometimes even using clearly-perjuredtestimony by fascist agitators. For more info, please see our recent article: Patriot Prayer and the Bias of the Portland Court System – The Case of Tristen Barhite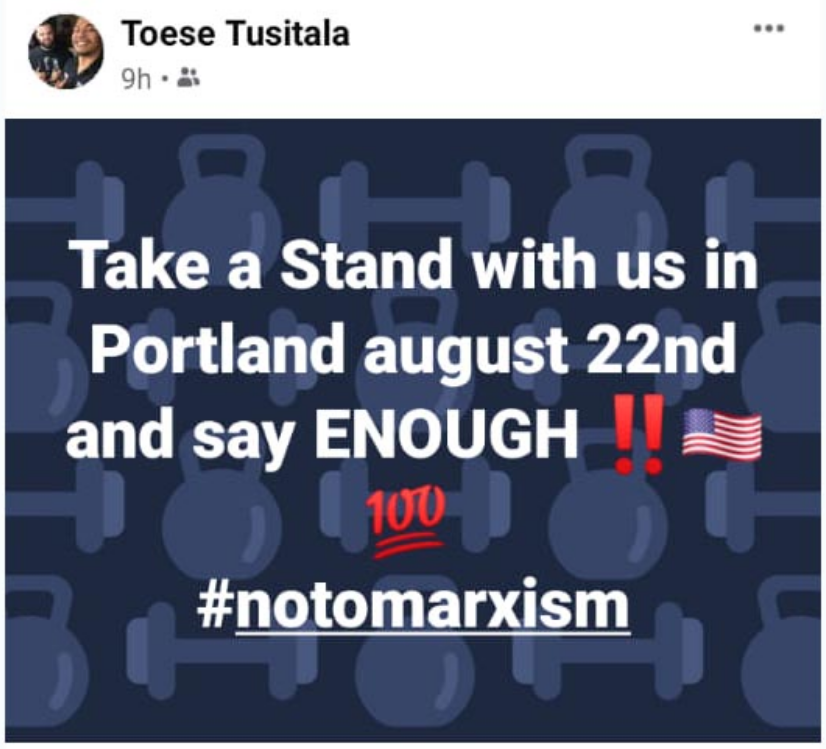 Toese promotes the 8/22 rally to his often quite bloodthirsty far-right Facebook audience.
NO FASCISTS IN PORTLAND
Taking time as a community to publicly address the threats posed by the absolute dregs of the local alt-right and fascist organizing scene is both a frustrating and necessary task. The violence perpetrated by Alan Swinney, Skylor Jernigan, and their far-right, white nationalist, and neo-Nazi friends at last week's "Flag Wave" event clearly demonstrates the ongoing need for community awareness and collective defense against far-right aggression. Amber Cummings' long history of direct collaboration with neo-Nazi violence makes her an unwelcome presence in a community which is sick of constant incursions by violent fascists. Engaging in community support for the ongoing protests against racist police violence also means coming together and utilizing the resources we have available to ensure that racist far-right agitators are not allowed to further abuse communities of color and protesters under the thin pretext of "pro-police sentiment".
Rose City Antifa will continue to work to defend our city and our communities against incursions by racists and fascists. If you have information about any of the far-right and fascist agitators mentioned in this article, or other white supremacist organizing, please email us at [email protected].